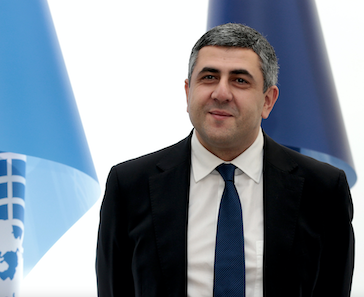 Zurab Pololiskashvili
ZURAB POLOLIKASHVILI, SECRETARY-GENERAL OF THE UNWTO
"Our sector gives them the chance to make a living. To earn not just a wage, but also dignity and equality. Tourism jobs also empower people and provide a chance to have a stake in their own societies – often for the first time."
Zurab Pololiskashvili has been Secretary-General of the World Tourism Organization (UNWTO) since January 2018. Prior to this, he worked in a number of high-level roles in both the private and public sectors.  After graduating with a degree in banking, Mr. Pololikashvili gained extensive experience in the private sector, including with a prominent role in one of Georgia's biggest banks and as CEO of the country's leading football team, FC Dinamo Tbilisi.
After a year as Deputy Minister of Foreign Affairs, he was appointed the Ambassador Extraordinary and Plenipotentiary of Georgia to Spain, Andorra, Algeria and Morocco in 2006, and was then his country's Minister of Economic Development between 2009 and 2010. In this position, Mr Pololikashvili oversaw the development of tourism within Georgia, establishing the sector as a leading employer and contributor to national economic development.
At the 23rd General Assembly of the UNWTO, Member States unanimously approved his plan of action for global tourism, including the landmark Agenda for Africa and his focus on promoting tourism as a driver of gender equality, job creation and rural development.
As the COVID-19 pandemic presented tourism with the biggest crisis in the sector's history, Mr Pololikashvili guided its response and recovery, winning political and practical support from governments and international organizations and uniting stakeholders around shared solutions and harmonized protocols. Under his leadership, UNWTO gained unprecedented visibility and prominence within the United Nations system, strengthening bonds with other key agencies and placing tourism at the heart of the wider agenda for recovery and sustainable development.
At the end of 2021, Member States met in Madrid for the 24th UNWTO General Assembly. They voted for Mr Pololikashvili to serve a second term as Secretary-General, giving him a clear and strong mandate to guide the restart of tourism and advance the key priorities of jobs and education, tourism and rural development and sustainability.